Shopping in Westfield Mall of The Netherlands 
During your stay at Fletcher Hotel-Restaurant Leidschendam-Den Haag, visit the brand new 'Westfield Mall of the Netherlands', the largest shopping mall in the Netherlands. When you walk out of the hotel it is not to be missed. You can walk straight into the huge indoor shopping center, where almost 300 shops are at your feet. A paradise for shopping!
Exclusive stores 
The Mall in Leidschendam has popular chain stores such as ZARA, H&M, Stradivarius and Nike, but also new brands such as Victoria's Secret and Bath & Body works are present. This makes it a unique and exclusive shopping center. You will not find so many well-known brands together so close to anything.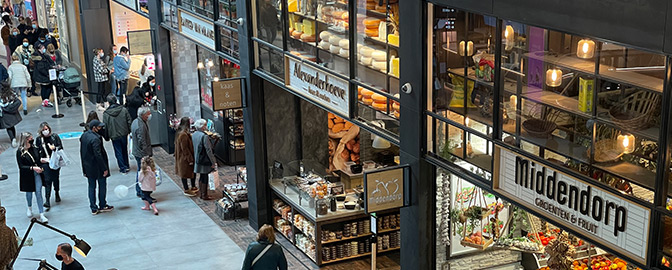 FRESH!
Like all major shopping malls, Westfield Mall of The Netherlands has a part of the Mall dedicated to a culinary experience. The Fresh! kitchen is the beating heart of the fresh market, where everything happens. For example, cooking shows, baking workshops and tastings are regularly organized. Here you can enjoy and pick up many international dishes and there is something for everyone. Think of sushi, Greek gyros, Spanish sandwiches and sausages, a Balinese Toko and even a juice bar.
Eet Theater
This particular Westfield area is meant to keep you entertained non-stop. And that will certainly be fine, if you look at the entertainment they offer. Fancy a movie? Sink into one of the eleven cinemas. Prefer gaming? Dive into the arcade hall. Or go bowling, mini golf, listen to live music or watch sports matches. You can easily enjoy yourself here for several days. The Eet Theater is open seven days a week until 23:00.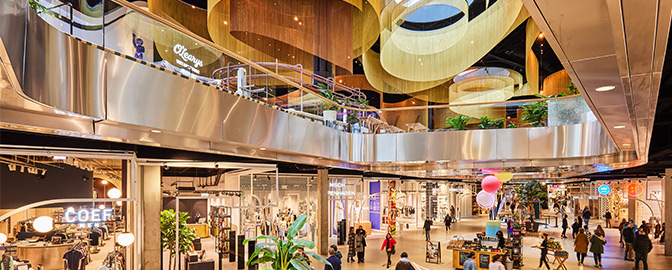 Hotel at The Mall of the Netherlands in Leidschendam
Come and spend the night in Leidschendam near Westfield Mall of the Netherlands to be able to shop for several days! Did you know that we have drawn up a package especially for the fanatic shopper?